Preacher Man
Renegade Souls MC Romance Saga Book 2
MC Romance
Amazon Digital Services LLC
June 26, 2017
Paperback
544
Amazon
Preacher could be called many things; Son, brother, friend, road captain, veteran, and charming Manwhore. He owned his title until he wanted a particular feisty woman to take him seriously, and then all bets were off, he'd play dirty to win her. Having seen the Lothario outlaw in action, Ruby wasn't encouraged to act on the attraction to his alpha-good looks. With selfish family draining her financially, Ruby's life was tumultuous at best, with no room for the kind of pleasure she knew she'd get from Preacher. But asking God for help, did it really come from the dirty-mouthed biker? No bad men, no troublemakers, and absolutely no bikers. This was Ruby's rule. But one perfect night, no strings attached, with Preacher? He fought for his country and lost his heart. Preacher came back from war a changed man, recognizing the same loneliness in Ruby. Drawn to her, to her dark fantasies, he wants it all, at any cost. Sometimes all it takes is love to begin to heal because Fate has a way of intervening where headstrong soulmates are concerned. Disclaimer: Intended for 18+ due to the extreme sexy times between two consenting crazy in lust adults.
Preacher Man (Renegade Souls MC Book 2) Review
By V. Theia
---
First, let me say that this is a long book, but it wasn't boring by any means—there was always something going on in the book that kept me transfixed.
This is the story of Preacher and Ruby (who we met in Dirty Salvation). Preacher the man-whore and ruby the bartender didn't have time for Preacher's bull shit.  Since she has seen him having sex with the waitresses that work with her and didn't want anything at all to do with him.  Preacher wanted Ruby so of course, he continues to pursue her. 
The chemistry between them was electric right from the start, even when Ruby was giving him the cold shoulder.  As I mentioned, Ruby was leery of Preacher, and with good reason, she has seen him in the alleyway and the bathroom with any female that would say yes–he is the no strings attached kinda guy until he sees Ruby.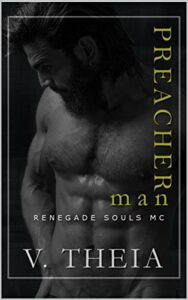 Now I love a good ole love story, but I still want my stories with a thicker plot; I didn't find in this book…There were no bad guys, no suspense, and no thrill. 90% of the story was Preacher and Ruby having sex morning, noon, and night. Both of them together are like a forest fire. I am beginning to think that this is how the rest of the books will be…Hot! Hot! Hot!  I mean after reading 40% of the book and still couldn't see a bad guy.  Don't get me wrong, I enjoyed Ruby and Preacher getting to know each other, and both of them fighting their demons, but what is a book without a plot that far in.  
Ruby is a strong woman and she has been through a lot of things in her short life. She is always helping and taking care of people, but no one takes care of her.  Ruby stood up for Preacher and I like that about her.  She will not shy away from confrontation–regardless of how big they are.  She is also funny as hell!!
What I love most about the book is the side stories from the other brothers.  Getting to know them and I really can't wait for Texas and Lawless books to be released.  It was great seeing Rider and his Icy again…joke is on Rider!
I would recommend this book to those who love dirty talking bikers and many steam scenes.
Click here to read my last review from V. Theia=⇒Arc Manhattan Bet.
---
Why did I rate this book a 5:
 I finished the book fairly quickly
I was kept interested to the end
Realistic characters
The blurp was true to the story
The cover was eye-catching
What did you think of the review?
Let me know your thoughts in the comment box below!
READING ORDER & BUY LINKS
Click on the covers to buy the books
---