Dirty Angels MC – Steamy Series Sundays
In today's Steamy Series Sunday, I am featuring one of my favorite MC Romance series, Dirty Angels MC by Jeanne St. James. Dirty Angels MC is one of the best MC Romance series out there…trust me I have read quite a few. The series is well written and hot as hell (pun intended) You can expect to find romance and some hot steamy scenes in this series. Without further ado…
---
Author
Jeanne St. James is a USA Today bestselling author of erotic romance. She started writing at only thirteen years old as an escape. Jeanne writes M/F, M/M, and M/M/F ménages books all amazing books. As a matter of fact, I have yet to read a book from Jeanne St. James that I didn't love.  In addition to The Down & Dirty: Dirty Angels MC Series, she has written several other series thus far (see below). She is not afraid to go all in when she writes her books, especially her M/M and M/M/F series.
The Dare Ménage Series (Steamy – I give this a steamy 10)
The Obsessed Series (Novellas)
The Brothers in Blue Trilogy (I am currently reading this series – great so far)
Rip Cord the Complete Trilogy Novellas (A M/M Sport Romance)
Guts & Glory: Ryder In the Shadows Security
What is the Series About?
The series is like any other MC Romance series where you find bad-ass bikers who take a vow to look out for each other in the name of brotherhood – like a family. These men will meet and fall hard for their women. What makes this series different from the rest?  The simple fact that it's written by Jeanne St. James…duh! The women in this series are sassy and is not afraid to put their men in their place if they get out of line. The heroines are strong women not some weak-willed women as can be found in some other MC Romance series.  The series has the perfect combination of love, romance, and action – not too gritty for my taste.  This series will pull you in and you won't be able to put the books down. You will read one book right after the next one. The characters are all lovable and she does a great job of character development.  You will become part of the story it's so enthralling.  If you love alpha males and sassy women then this is the series for you.
Favorite in the Series
Diesel is a favorite. He is so stubborn and such an alpha male and with the responsibility he has to keep the club members and their families safe, he can be called unfeeling at times, but he is just a big bad teddy bear. I feel like he is vulnerable, this is evident in how he takes his responsibility to protect seriously.  Also, he rejected the idea of getting into a relationship with Jewel or any other women for fear of them getting hurt because of his position as a club member. But Jewel finally breaks through it all. Love these two together. Always leave you wanting more and more. Another great book in this series. Very well written and extremely enjoyable.
The Best Book in the Series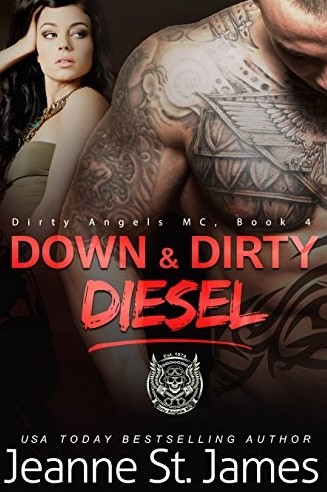 Okay, so no surprise that the best book in the series is Down & Dirty Diesel, which is Diesel and Jewel's story. Although, all the book in the series is good, this one is GREAT! I read this book several times.  It's my go to book for when I need something great to read. Down & Dirty Diesel has the hottest steamiest sex out of all the series and you will not be able to put it down–this is a real page turner.  See my review of Diesel here ==>Down & Dirty: Diesel (Dirty Angels MC Book 4). Jewel is head over heels in love with Diesel, but the pig-headed fool won't have none of it–but the bigger they are, the harder they fall. In Diesel's case, he fell for a sassy, fiery woman he loves him–with flaws and all.
Reading Order
Down & Dirty: Zak (Dirty Angels MC Book 1)
Down & Dirty: Jag (Dirty Angels MC Book 2)
Down & Dirty: Hawk (Dirty Angels MC Book 3)
Down & Dirty: Diesel (Dirty Angels MC Book 4)
Down & Dirty: Axel (Dirty Angels MC Book 5)
Down & Dirty: Slade (Dirty Angels MC Book 6)
Down & Dirty: Dawg (Dirty Angels MC Book 7)
Down & Dirty: Dex (Dirty Angels MC Book 8)
Down & Dirty: Linc (Dirty Angels MC Book 9)
Down & Dirty: Crow (Dirty Angels MC Book 10)
Crossing the Line: A Dirty Angels MC/Blue Avengers MC Crossover (Release Date November 2, 2019)


---
Have you read this series yet? If so, leave a comment below and tell us what you thought about the series.