Law Maker Book Review
By V. Theia
One of my favorite series to read and review is Renegade Souls MC by V. Theia.  I so look forward to her Renegade Souls MC releases, and I will stop in the middle of a book just to read hers—all night. Law Maker was no different…
Law Maker was such an amazing surprise for me.  From the moment I started this series, one character stood out from all the rest—Lawless.  The series has some amazing characters, but Lawless was the one that makes my heart flutter, and every time he appeared in a chapter, I have to reread that section multiple times.
I have been waiting for his story since I started the series but realized that I would have to wait a while longer for his book because his book is the last in the series—apparently.  I am so glad that V. Theia had pity on me and threw me a bone—a huge bone.
Law Maker is a novella about Lawless, everybody's favorite character from Renegade Souls MC.  Renegade Souls MC is one of the best MC Romance Series that I have read…and trust me, I have read plenty.
I must stress that Law Maker is NOT a romance or HEA, although Lawless is Lawless—men or women, he doesn't care.  If you have read any of V. Theia's "novellas," you will know that they pack a good punch.  When you think the book will end, there is more to read.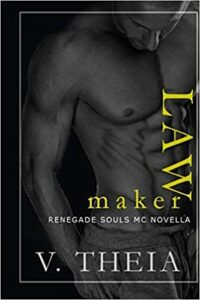 FREAKING EPIC!!
It was amazing to see how it all started for him…what made Lawless so formidable…so cold…so ruthless…to see inside his mind from his past to his present.  The book answered tons of my questions and left me with tons more… This was not his HEA, but an amazing read to prepare me for that time.  The book will be amazing, and I will read the book a million times—I am certain.
A new secondary character was introduced, who had an intimate past with Lawless…friend or foe…I don't know…but I hope to see him in future books.  Who will he end up with—a man or a woman—maybe both?  Some fans continue to think that it's Angela, but my mind tells me that there will be a twist—just not sure what it is yet.
Theia knows how to write a story to keep us turning the pages and keeps us begging for more—Law Maker was no exception. I finished the book in one setting…just wanted to devour Lawless. If you have read the other books in the series if you are a fan of Lawless or not, this is a MUST read.  Get to know the man before his HEA.
Click here to read my review of book 7, Indecent Lies.
---
What did you think of the review?
Let me know your thoughts in the comment box below!
READING ORDER & BUY LINKS
Click on the covers to buy the books
---