Blazing Heat Book Review
By V. Theia
---
5 Stars

🌟 🌟 🌟 🌟 🌟
Another fantastic read from V. Theia!  If you thought the other books were freaking hot, wait until you read Arson and Erin's story. Blazing Hope is all I hoped it would be–and then some.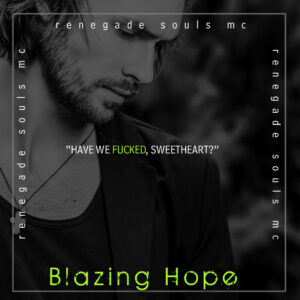 As you may know, Arson is a recovering alcoholic–fresh out of rehab.  Thank you, Pastor Danny (Intimately Faithful).  On one of his drinking binges, he had a one-night stand with Erin (Rider and Zara's church mouse). Of course, he doesn't remember any of it. Once he returned from rehab, Erin started giving him the cold shoulder, and he couldn't understand why until a light bulb went off…Oops!
Who continues a One-night-stand a year later? ~Erin and Arson~
He decided to act on the attraction between them, but Erin wasn't having any of it–he broke her down, though, which led to the epic love story. As with Resurfaced Passion, this was a love story that focused on Erin and Arson, not on the club or Villians–well, except for that guy, Jay Benz, and he is a teddy bear if you ask me.
Perfect Match
I was rooting for Arson for a while now and am so happy he got his HEA. Erin, honestly, I thought she would be dull and as timid as a church mouse, but I should have known better–V. Theia's women are badasses. As with the other women in the series, Erin was likable, caring, and sassy. Erin is a perfect match for Arson. She was adorable and funny and, I love her–not sure why she reminds me of Paige (Reaper's woman) Resurfaced Passion, but she does.
"My lips are dry, sweetheart, so get up here and sit on my face."
My heart broke for Arson in previous books and his struggle with his demons; it is amazing what the love of a good woman can do to a guy. I expected more angst because of his struggles, but surprisingly, not much, but it was perfect!
"I would risk everything to keep you."
Okay…sooo Lawless's chapter left me with OMG, WFH, OMFG, "I know I was right" vibes, and I can't wait for his book…WTH V. Theia. I've said it once, and I've said it twice…well, three or four times, but I'm pretty sure I know where Lawless's book is going (especially after reading the epilogue). Or maybe my imagination is too going wild–regardless–I trust V (maybe).  
Click here ==⇒ to read to prepare for Lawless's book Law Maker Book Review. 
I can't accept we have one final book to go in the series, but I know we are going out with a bang, and I can't wait to see what else V. Theia has for us in the subsequent series.
Another fantastic addition to the series. 
---
What do you think of the review?  I would love to hear from you…leave me a comment below. 
PREVIOUS BOOKS IN THE SERIES & BUY LINKS BELOW
Click on the covers to buy the books
---