Manhattan Secret Book Review
by V. Theia
I don't even know where to begin with this book…I just finished it a few hours ago, and my mind is blown away. So, this review will be all over the place, which is how my mind is after reading this amazing story.
Delaney and Lachlan met in a bar and discovered later that she is his teacher and 7 years his senior. Laney is conflicted because she wants Lachie, but she is afraid to lose her job and knew dating a student is breaking the code of conduct. But Lachie is a Fierro, and we know they always get what they want–Lachlan wanted Laney, so it was a lost cause for her.
Forbidden Love–Lachlan and Delaney are a match made in heaven. This book was everything from the very first page–keeping my attention until 4 in the morning. Of course, I knew the book would be amazing…duh, V. Theia is the author. However, I was not prepared for the rollercoaster ride that was Manhattan Secret. This book will have you all up in your feelings…you will laugh, you will cry…sometimes at the same time. In true V fashion, she placed some "sprinkles" in the book for us to follow…Yess!! These two characters are not ones you will soon forget. That is one of the things I like about the author; she writes unforgettable characters. The chemistry between Lachlan and Delaney was magical pure fire–right from the start, they heated the pages. Again, no one writes characters like V. Theia.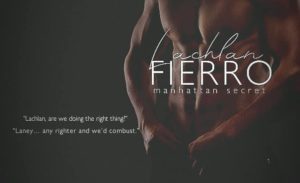 I knew I would love Lachlan, but not love love love him. Well, first, he is Sena and Noah's son (Sena and Noah are one of my favorite couples–ever). He is all Alpha like his daddy. He is cocky, protective, confident, dominant, strong, loves as hard as his father–and he gets the girl. I would like to know where I can find an 18-yr old like Lachie, no way an 18-yr. Old should have that much swagger–his naughty mouth, though…
Delaney is everything I like in a heroine, and it was great to follow her through her journey of being the little "mouse" to the fierce women that she has become–one that knows who she wants and isn't afraid to go get her man back.
Manhattan Secret had it all, it kept my attention from the first page, and I didn't want the book to end; the character development was amazing (specifically Lanie). At times, the book was laugh-out-loud, funny, entertaining, and the story wrapped up pretty well in a nice little bow–the epilogue was everything, just seeing all the characters in the future…God, I love this author.
---
(1) Attention Keeper: 5 🌟 🌟 🌟 🌟 🌟
(2) Digging deep in Character Development: 5 🌟 🌟 🌟 🌟 🌟
(3) Danger-Drama-Friction-Suspense Fulfillment?: 5 🌟 🌟 🌟 🌟 🌟
(4) Edit to Perfection!: 5 🌟 🌟 🌟 🌟 🌟
(5) Feeling the Words: 5 🌟 🌟 🌟 🌟 🌟
(6) Give me more please factor: 5 🌟 🌟 🌟 🌟 🌟
(7) Going with the Flow of the Story: 5 🌟 🌟 🌟 🌟 🌟
(8) Grammar Police: 5 🌟 🌟 🌟 🌟 🌟
(9) It's all about the Chemistry, baby: 5 🌟 🌟 🌟 🌟 🌟
(10) Laugh out loud funny: 4 🌟 🌟 🌟 🌟 
(11) Love connection: 5 🌟 🌟 🌟 🌟 🌟
(12) Plot Worthy: 5 🌟 🌟 🌟 🌟 🌟
(13) Show me Entertainment: 5 🌟 🌟 🌟 🌟 🌟
(14) The Writing speaks for itself: 5 🌟 🌟 🌟 🌟 🌟
(15) The Wrap Up of all loose ends in a tidy bow: 5 🌟 🌟 🌟 🌟 🌟
(16) Bring the Heat 5 🌟 🌟 🌟 🌟 🌟
(17) Book Cover 3 🌟 🌟 🌟 🌟
---
What did you think of the review?
Let me know your thoughts in the comment box below!
Click on the links to buy the books from Amazon.
---