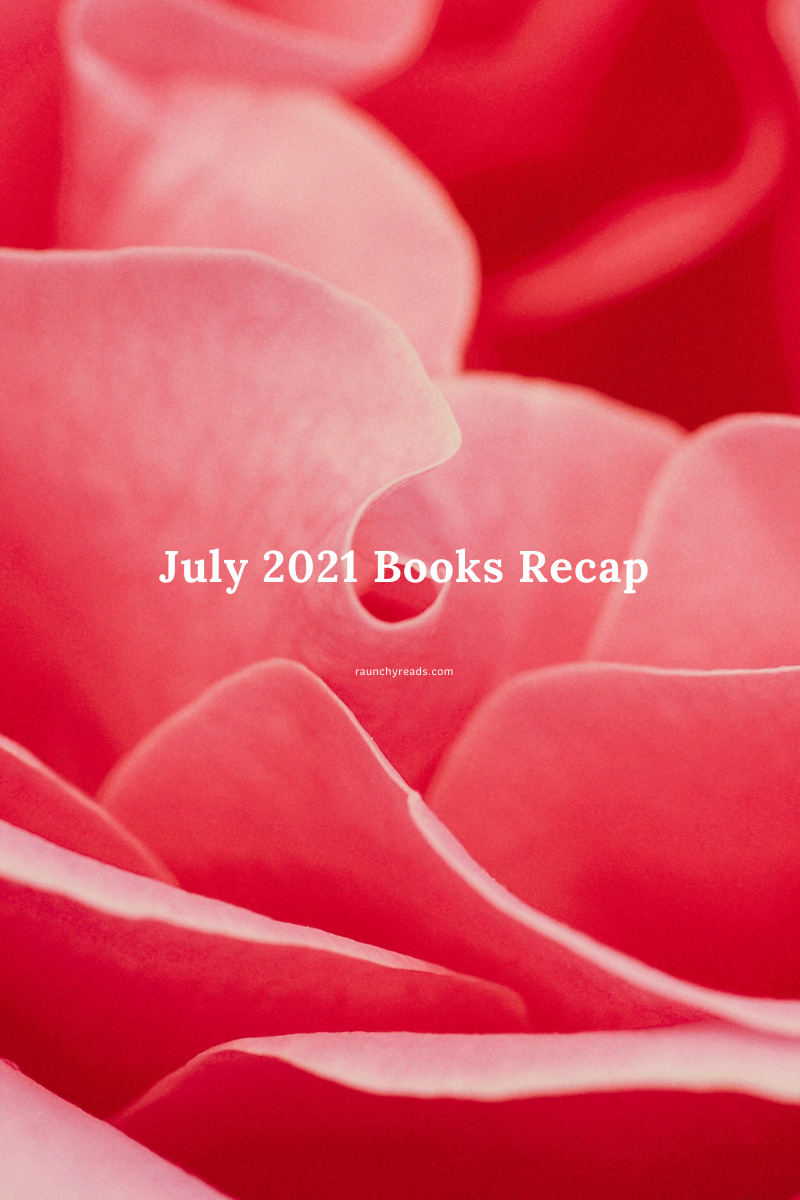 July 2021 Books Recap
July was an awesome reading month for me.  Once again, Jessica Gadziala dominated my reads last month. As a matter of fact, six out of the 13 books read were authored by her–one more than last month. I read one MC Romance by Cassandra Robbins; it has been a while since I was vested in a new MC Romance series.  I read one book by one of my favorite gay romance authors, Sloane Kennedy. I loved it, no surprise there–let's face it, we are talking about Sloane Kennedy here. 
Four of the 13 books, was on my "OMG! I can't wait to read" list from authors such as Ella Frank/Brook Blaine, Sloane Kennedy, Kelly Fox, and Charlies Cochet.   on July, other authors I read are Saxon James, Riley Hart, and Cassandra Robbins (my first time reading her work).
So to break it down for you, I read 13 books, 6 from Jessica Gadziela, 1 MC Romance, and 6 gay romances.  
Here are the 13 books that I read in July 2021, along with books purchased and books added to my to-be-read list. Unfortunately, I did not review any books in July. I hope to rectify that this month.
---
The 13 Books I Read in July
The books I read last month, in order of my favorites.  As I mentioned, I was looking forward to four books/authors released in July (all gay romance).  Let's see where they are on my list.  Here you go…Enjoy.
All Jessica's Gadziala's books were amazing, especially Dark Secrets. We were introduced to Danny from The Henchmen Series, Book 1.  I can tell you that all her books are amazing, and I have a lot more to get through. I can't wait to finish them all. 
My Favorite Read (s) of July
---
The below book was my favorite of the 13 books I read.  
Dare You (Dare to Try Book 1) By Ella Frank and Brooke Blaine  OMG Bash! I will start by saying that I tend to shy away from gay romance books where one of the guys wears makeup and dresses, etc. I'm saying that I love my m/m action with two big muscular guys or close to it, which is why I love sports romance.  But last month, I read two books out of my scope and I love them, Dare You being one of them and Goodnight being the other.
With that said, I'll read anything that Ella Frank and Brooke Blaine write. So Dare You is from Ella's Chicago Universe and Brooke's South Haven Universe.  We met Bash in A little Bit Like Desire (I believe), and I loved him–Bash was/is unapologetically Bash. We met Kieran Bailey in his brother's Bailey's book and never thought he would even get his own book–with a man…then again, I never thought Sean would have his own book–with a man.  
Bash is in Chicago on business where Kieran, the fire lieutenant, saved him. As you can imagine, Kieran is straight, but nobody can resist Bash–not for long anyway.  Ella and Brooke didn't disappoint. I am waiting patiently for book 2.  
---
What do you do when you are in a reading funk?
You can check out June's Recap here==⇒June 2021 Books Recap. 
July Book Review(s)
NONE! I read a lot but no reviews. I will try to write a review after each book, but I am so eager to start the other book–the story of my life.
Books Purchased
Here are the books I purchased this month–14 in total.   Keep in mind the below books do not include books I grabbed with my Kindleunlimited subscription.
Diablo (Sons of Sangue Washington Chapter #1)

Patricia A Rasey –

MC Romance

Blood & Bones: Rev (Blood Fury MC #8)

Jeanne St. James –

MC Romance

Sleight of Hand (The Kings: Wild Cards #3 Charlie Cochet –

Gay (M/M) Romance

Lethal (The Disciples #1) Cassandra Robbins –

MC Romance

Primal Howl (Primal Howlers MC #1)

Piper Davenport –

MC Romance

Primal Need (Primal Howlers MC #2) Piper Davenport –

MC Romance

 The End Zone (Atlanta Lightning #2) Riley Hart –

Gay (M/M Romance)

Not Another Manwhore (Not Another Romance)

R.L. Kenderson –

Contemporary (Fake Boyfriend)

Rainbow (Ruthless Kinds MC Baton Rouge Chapter #1) K.L. Savage –

MC Romance/Gay (M/M Romance)

Reaper's Rise (Ruthless Kings MC Las Vegas Chapter) K.L. Savage – MC Romance
Fury of Conviction (Dragonfury Bad Boys #2) Coreene Callahan – Paranormal (Dragon Shifter)
Four Ever Sloane Kennedy – Gay (M/M Romance)
Dare You (Dare to Try #1) Ella Frank/Brooke Blaine – Gay (M/M Romance

Crash: A Dirty Angels MC/Blood Fury MC Crossover (Dirty Angels MC #13)

Jeanne St. James –

MC Romance
August New Releases
I am really looking forward to the release of the below books, one that I'm sure I will devour on release day.
Added to My TBR List
My TBR list is getting bigger and bigger every day.  Last month, I added only one book to my TBR list–not many added for a change, but I purchased 14 books.
---
How did you do last month?  Any books you would recommend to me? Let me know in the comments below? I look forward to hearing from you.