Darling Psycho
By V. Theia
5 Stars 

🌟 🌟 🌟 🌟 🌟
---
I don't know how to feel after reading Darling Psycho—the final book in the Renegade Souls MC Series. Darling Psycho blew me away, and nothing could have prepared me for Lawless and Angela. I am still processing the brilliance that is V. Theia. Reading Darling Pshcyo is bittersweet for me–his story was a long time coming, but I know it will end the series.
---
Darling Psycho is book 12 and the final book in the Renegade Souls MC, and what a series it was.  I wanted his story for so long, but nothing could have prepared me for Lawless and Angela.
About three years ago, someone recommended the series to me, so I purchased Dirty Salvation. However, I never read it until about a year later—reeling me in from the first book.
The first time I met Lawless, immediately, I knew that he would be my favorite (I tend to like the badass psychos). I waited and waited for his book only to find out, O Yeah, his book will be last, and I suspected why—Angela. Angela had to grow up, so I waited and waited.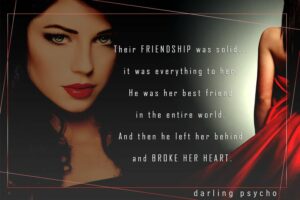 Law Maker
In March, just in time for my birthday, we fans were surprised with a novella, though not romance, it was so we could learn more about the man. After reading Law Maker, I thought, well, maybe his HEA is not Angela after all. Although I wouldn't mind it being Jay Benz—I love a wonderful MM romance, but I wanted it to be Angela. Click here to read=⇒Law Maker Book Review.
In book 11, Jay Benz threatened Angela if Lawless didn't return to him. See, Jay Benz fancies himself in love with Lawless—I mean, who wouldn't? So, Lawless said sure why not—little did he know that Lawless wasn't having that—no one threatened his Angela, so he called his lawyer to release him from jail. And so the story begins.
We knew he was protective of Angela, but until this book, I didn't realize how much and how he fought his feelings for her and gave her three years to grow up. He immediately claimed her, and Angela was happy her grumpy finally came around–claiming her.  I like that she accepted him and continues to love him for who he is—her grumpy psycho. 
Final Thoughts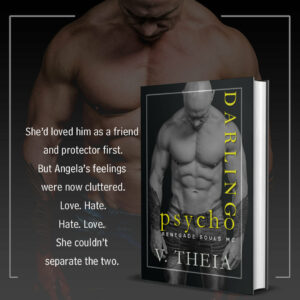 I know…" In V We Trust" blah blah blah–I tried to remember that but didn't always believe it, but V came through, and it was Pure Fire! In my head, I thought V would make this a slow burn because of the age difference, but NO sizzling, steamy, and fire from start to finish!! I was enthralled from the very first page, so much so that I had to slow down the pace because I didn't want the book to end. 
I also thought (silly me) that Lawless would change to be less of a psycho, tamer,  but I was pleasantly surprised that he was the same crazy psycho that we know and loved who went on a rampage or two—I love to see this man in action. Lawless met his match in Angela, and she got Darling Psycho wrapped around her finger.
The love between them was feral/wild/explosive. There is not one thing about Darling Psycho I didn't like.
OMG! The Epilogue!!!
I still have questions about Jay Benz, and do we have another Psycho??? Time will tell 😊
If you haven't read the rest of the series, I wouldn't recommend reading this book–just yet. You will miss the build-up to Darling Psycho. Grab the others in the series—you won't be disappointed.
---
What do you think of the review? I would love to hear from you; leave a comment below. 
SERIES READING ORDER & BUY LINKS BELOW
---