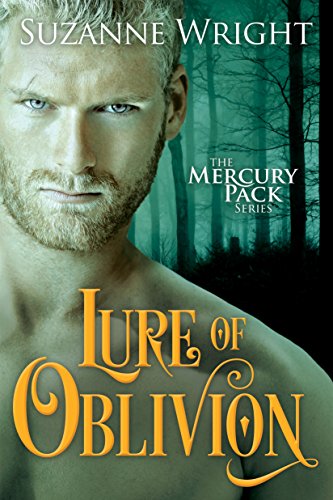 Lure of Oblivion
Mercury Pack
Paranormal Romance
Montlake Romance
November 21, 2017
Paperback
336
Amazon
Gwen Miller may be a human, but she has no problem taking a stand against her own kind. She's going to testify against the teenage boy she saw viciously assault a lone shifter female—and no amount of pressure from the boy's wealthy family will make her back down. But when the harassment turns violent, help comes in the form of a lean, toned wolf with winter-gray eyes.
As a guest at Gwen's inn, shifter enforcer Zander Devlin can't help but notice that the fierce and leggy brunette is in serious trouble. Since she's putting herself at risk for one of his kind, keeping her safe is the least he can do. That's not the only reason Zander wants her close. He desires her, even as the wolf inside him backs away from her. But his feral instincts are hard to keep down, and as they take shape, they're harder for Gwen to resist. Then again, embracing them could be the only thing that could save her life.
Lure of Oblivion by Suzanne Wright
I cannot begin to tell you how much I love this author. She cannot do no wrong in my eyes.   Suzanne Wright's Phoenix Pack is one of the series that started my love for paranormal romance books–Thank you Suzanne!  I have read all her books–Wild Hunger is waiting on my bookshelf to be read.  She is one author I ALWAYS have her books on pre-order–always look forward to waking up and finding her books on my kindle.
Suzanne's books can all be read as a standalone, no cheating, tons of steamy scenes, strong women, sexy alpha males, strong beautiful women, and a guaranteed HEA…what more do you need from an author.  
This is Zander and Gwen's story, as you can see from the synopsis, Gwen is a bad-ass.  Zander is an enforcer from the Mercury Pack and his wolf is acting strange when Gwen is around; Zander have no clue why. Compared to Gwen, Zander is more reserved and quieter, but it works between the two of them
Zander was very protective of Gwen, but of course, Gwen doesn't feel like she needs his protection–because she is bad-ass.  Gwen sticks up for herself and her dialog is always funny and clever! 
The story is great, the characters are great, and Suzanne's writing is addictive and deliciously sexy–what else do you need?
The book was fast-paced and thrilling guaranteed to get you to continue reading–so addictive!!
Lure of Oblivion is great addition to the series, but I would've liked to see more of a chemistry between the two in the beginning. I felt like the chemistry was kind of forced.  However, the steamy scenes were hot, hot, hot and plenty…just how I like it!
The ghost scenes, just couldn't get into that…maybe because I don't like ghosts…or maybe because the series is about shifter, not ghosts.
I would strongly recommend this book to all paranormal/shifter fans.  Suzanne Wright is an author for all paranormal fans to have on pre-order. 
---
Buy from Amazon              Buy from Barnes and Nobles
Let me know what you think of my review. Do you agree disagree?  I would love to hear from you.