Midnight Breed Series Sunday
By Lara Adrian
Midnight Breed-Steamy Series Sunday
After reading Black Dagger Brotherhood, I was looking for something similar and just as good.  My co-worker recommended Midnight Breeds–and I'm glad she did.  
This is one of the best paranormal series EVER written! Period! Laura Adrian can do no wrong in my eyes. This is why Midnight Breed is the next Steamy Sunday Series that is being featured. 
I am starting to see a pattern here…last week I featured Sons of Sangue by Patricia Rasey and I was reading the newest in the series.  Guess what? 
I am reading book 1 of the Midnight Breed Spin-off (called Hunter Legacy). 
---
Author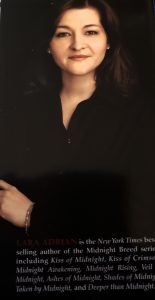 As I mentioned above, Lara Adrian is one of the best paranormal romance authors out there.  She is an award-winning author of both historical and paranormal romance books.  She is the New York Times and #1 International bestselling author of the Midnight Breed Series.  Now, do you see why she is one of the best? 
By the way, she also writes as Tina St. John (I find this interesting, so thought I would share this tiny fact).  Lara also writes a series of romantic suspense novels.  I have since put these books on my TBR list because romantic suspense is one of my favorite sub-genres. That's not it, she has written several other series–all great writing!
What's the Series About
The series is about the Breeds, vampires that are hundreds of years old, who are fighting against rogue vampires (vampires that are strung out on blood and have pretty much lost their damn minds.  The Order, which is what they called themselves are all born from breed mates, some are first generations or Gen Ones, and they are task with creating order in the vampire world and protecting their secret from the humans, who have no idea that they live among vampires. 
The Order's exist entirely to eliminate the population of Rouge vampires. 
What makes the series different from the rest?
The idea of having vampires that can only mate with "breed mates", which is determined by the women being born with the same mark somewhere on their bodies-a teardrop falling on a crescent moon, and yes, they are born to breed with vampires.  Later on, in the series, we learned more about the breed mates and how they were all born with the same mark (will not disclose, you must read to find out).  Yes, like most vampire books, they cannot go outside in the daytime.
Another thing is the breed mates all have a special ability, which they will pass on to their sons. Oh yeah, did I mention that they can only have sons (again you MUST read the series to find out what happened with that…………………………………….
This series has it all, steamy scenes, gorgeous alpha males, courageous women, and villains that will give you nightmares when you sleep–yes, the best villains…love, betrayal, brotherhood, and mystery at every turn.
Who are my favorite book boyfriends in the series?
One of the main reasons why I read books is to find me some book boyfriends and take them home.  Let's face it, that is one of the best things about reading romance novels, right? 
I always fall for the tortured souls, the new guy, and the GQ guy.  With that being said, my book boyfriends in the series are:
Tegan- Midnight Awakening (Book 3) (Tortured Soul)
Sterling Chase-Darker After Midnight (Book 10) (New Guy)
Rio-Midnight Rising (Book 4) (GQ and tortured Soul)
Best Book in the Series
The best book in the series hands down (well for me anyway) is Sterling Chase aka Harvard's book, Darker After Midnight. This book was just climatic–the end of the hidden world of the Breeds.  This book opened the doorway for Midnight Breed Next Generation, which is equally as good as the original.  Midnight Breed the Next Generation is obviously the original Breeds children so the books reflect that because they are quite young.  
Yes, Darker After Midnight
is the best in the series.  Besides Sterling Chase was my favorite–even before he was a Breed Warrior.
Upcoming Releases
Break the Day (Book #16) is the next Midnight Breed Series set to be released in early 2019.  
Additionally, the second Hunter Legacy book, called Hours of Darkness is set to be released on September 25th.
I cannot wait for both of the books to be released-September 25th is exactly 9 days away.
---
Have you read this series?  What did you think about it?  
Let me know in the comments below.
xoxo
Kay