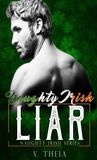 Naughty Irish Liar
Naughty Irish Series
Erotica
Amazon Digital Services LLC
03/15/2019
Kindle
187
Amazon
RONAN MACNAMARA 
A retired con artist never loses his skills.
A liar always has a lie ready. 
Of course, it's a woman that brings me to a stand-still.
The woman. The spoiled Manhattan Princess herself. 
My acushla. 
She's the kind of innocent that wets my tongue.
Makes my body come alive.
She's sweet, she's joy, she's a pain in my neck and I want to ruin her.
I lied to push her away.
I lied to keep her. 
CATHERINE CLEMONTE
My agenda is simple.
To call that Irish liar's bluff and to win his love and devotion by St Patrick's Day.
He claims the passion between us can be burned out so easily. 
I need to prove we can have a lifetime of desire that will never disintegrate.
WINNING THE HEART OF A PROFESSIONAL LIAR?
I need all the saints on my side. 
Because Ronan MacNamara is mine. 
Naughty Irish Liar ARC Review
By V. Theia
Whenever I am reviewing one of V. Theia's books, I always start with the same line "when I think she can't get any better…blah blah blah!  Today I'm going to start with Naughty Irish Liar is another hit for V. Theia—no joke–Catie and Ronan.  Catie the young heiress who has loved Ronan since she was 16, decided to follow her heart five years later. Catie is sassy, cute—and brave to face off with such a sexy asshole.
She is perfect for him and is not afraid to give it to him…pun intended. Most importantly, she is not afraid to follow her heart—eventually getting the man she loves.  Ronan the successful business owner, Irish bad boy, all alpha male who worked his way up the ladder. When he sees Catie again, he is both enthralled and annoyed or so he says…He is the true meaning of asshole, but you will love him right from the start. V warned us about Ronan, but I was still in awe of his assholiness (I just made that up). 
From the moment I picked up the book, I couldn't turn the pages fast enough. I never know what I'm going to read on the next page is what foolishness Ronan is going to say or do or what is going to come out of Catie's mouth. The chemistry between the two is 150 degrees…I can surely say that V delivered on Naughty Iris Liar…just as she promised.
Click here to read my review of V. Theia's series =⇒Renegade Souls MC.
Perfect couple, long-lasting love, attention-gripping, and a plot twist at the end!!  AUTHOR CRUSH?