Duke – The Henchmen MC Book Review
By Jessica Gadziala
---
5 Stars
I started The Henchmen MC Series a while ago and stopped halfway with Wolf's book (not that it wasn't a good book), but I wanted to read something other than MC Romance.  Last week, I started the series again, and I'm glad I did.
I just had to write a review on Duke's book because the series went up ten levels in this book, and I have every intention of binge-reading the rest of the books–like I devoured Duke.  Here is what I thought of the book.
---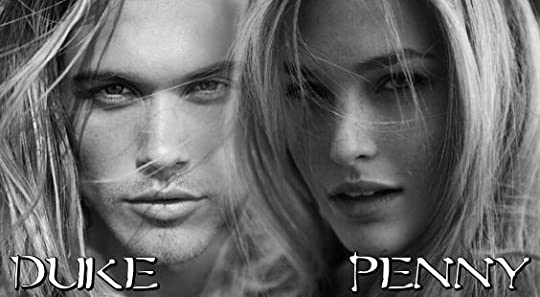 Duke
is book 5 in the series and the best one yet. Jessica Gadziala did not disappoint me.  At the end of Repo's book was the beginning of  Duke's and where the series got to the next level. Don't get me wrong, the rest of the books were gritty and action-packed, but shit happens in this book. 
OMG! I did not see that coming.
Penny moved back to Navesink Bank to be closer to her grandmother, who broke her hip. Penny is a "nice" girl and is used to living an uneventful, boring life.  
Duke and one of the members of The Henchmen met Penny when she needed directions to her job interview.  They provided directions to her, but little did they know they would be seeing her real soon.  
For Penny, that one chance meeting changed her life forever–her life is now in danger.  From Repo's book, we learned that Duke has a past that he doesn't want to talk speak of. We eventually learned about his past, and I can say I wasn't expecting that at all.
We already know that all the brothers are protective of their women and will protect them by any means necessary. Duke is no different, and the moment a badly hurt Penny was thrown on the clubhouse property as a message, he stepped up and showed us a side of himself that we have never seen before. Duke and Penny had chemistry from the moment they met, and they had a strong connection and not just the intense attraction.
This story is about falling in love, revenge, family, stronger brotherhood/friendship, acceptance, and change.
It meant war
---
My thoughts on the Book
I stayed up until 5:20 am to finish the book–need I say more. As I mentioned, Duke is the best in the series to date.  There is a lot more action and suspense with those who dared to threaten the lives of the club members.  Without giving anything away, let's say that the boys are scared for their family and had to send them up to Hailstorm for protection.  I was kept at the edge of my seat, pages and pages of suspense.  What's going on?  Who wants them all dead? What will happen next?  Who else is going to die?
Two words come to mind while reading this book: complex and heartwrenching. Jessica Gadziala is a wonderfully talented storyteller, there is darkness and sadness, but she mixes that with just enough light and laughter for a perfect balance.
Almost Perfect…Except
The book was almost perfect, except…it ended with more questions than answers; we still don't know who is targeting the club. I am dying to find out, so I'm jumping on Renny's book right now!
Favorite Quotes
"Just because I'm old, doesn't mean I have to dress like I am none too patiently waiting for death." ~Granny~
Final Thoughts
Duke was gritty and full of suspense and romance.   The book is very well written; Jessica Gadziala did a fantastic job with this installment, and I can't wait to start Book 6, Renny. Listen, grab this book.  Although you don't have to, I recommend reading the other four books in the series first. Or at the very least, read Repo
.
---
Looking for another MC Romance Series to read? Click here =⇒10 Must Read Motorcycle Club Romance Series. I have to update my top 10 list this year. 
---
What do you think of the review?  I would love to hear from you…leave me a comment below. 
PREVIOUS BOOKS IN THE SERIES & BUY LINKS BELOW
Click on the covers to buy the books
---