Paco
Night Rebels
MC Romance
Amazon Digital Services LLC
February 16, 2018
Kindle
274
Amazon
Paco, the rugged VP of the Night Rebels MC, only stopped to get out of the rain and have some chow at the diner. He was headed back to Alina. He never intended on staying, but he saw her sitting alone at the booth next to his. She had on too much makeup and too little clothing for the cold wintry night.
Then she looked at him: her eyes were dark like an endless stretch of midnight sky. In their inky depths, he saw sorrow and pain and threads of fierceness. They drew him in.
He, the man who never looked past one night with a woman, wanted to know about this small woman sitting across from him. He knew he should just pay his bill, hop on his Harley, and head home, but he couldn't.
Misty Sullivan hated the cold nights when she'd have to haul her butt from truck to truck to make enough to satisfy her boyfriend. She used to have another name, but that was a long time ago when she was normal and life was good. She tried not to remember what was—it just made her new life worse.
The stranger staring at her didn't look like a trucker. He was decked out in leather and denim and looked at her like she was a person, not a piece of a$$. But… men couldn't be trusted. They only wanted to use and abuse women. Yet, she sensed the sexy stranger was different.
A series of events kept throwing them together. Soon Misty's past threatened to crash with her present. Could she trust the biker who was playing havoc with her heart to save her from destruction?
Paco had closed off his heart since his first love had shattered it many years before. Would Misty be the woman to break through his barriers? Could he let her slip away from him?
Paco Paco (Night Rebels Book 5) Review
By Chiah Wilder
This is the 5th book in the Night Rebels MC Romance Series.
When Chelsea was only 15, she was a victim of human/sex trafficking when she was kidnapped and sold. She was raped, beaten, and forced into prostitution for eight years.
On a faithful, cold, and rainy night she went into a diner to warm up and met Paco, and that meeting changed both their lives.
This is the third book in the series that had my emotions on a rollercoaster ride.
I was happy to meet this very strong woman who has been through so much in her short life.  When she was ready to give up, she found hope with Paco.
Sex Trafficking is something that happens every day, but most of us don't even think twice about it until it hits home; this has always been on my mind because I have three children–two of the girls.  So, I was happy to see that Chelsea found love and her family again after her ordeal.  She is a strong woman. Her character was lovable, and I was rooting for her right from the start.
If I didn't like Paco before, I would love him now. From the moment he met "Misty," he treated her with respect and nothing but kindness. Who would've thought the VP of the Night Rebels would be so gentle, caring, and kind.  Paco was done with love and certainly wasn't looking for love, but he found it one cold rainy night.  He fell for Misty's sweetness even before he knew she was Chelsea.  He has such a big heart,
This was a beautiful story with an amazing plot twist–you have to read it to find out.  But it's no surprise because I've said it before Chiah Wilder is the plotting queen.
The bad guys in this book were evil men–they disgust me, but that's how Chiah gets us hooked in the story.  The story flows, and the plot and storyline were easy to follow. The ending was amazing.
To summarize, this book kept me hooked from the very first page all the way to the end.  The characters were so real to me; it's like I knew them–personally.  As usual with all of Chiah's books, the plot had many twists and turns on almost every page–fast-paced and very easy to read. Chiah's writing style was very descriptive and hooked me in the story–as if I was there.  The blurb was attention-grabbing, and the cover art was suitable for a motorcycle romance novel. However, the cover model is not what I imagined Paco to be (in my opinion).
You can read the previous book in the series by clicking here=⇒

Goldie
I can't wait to see them again in the next books, a well-deserved HEA for Paco and Chelsea.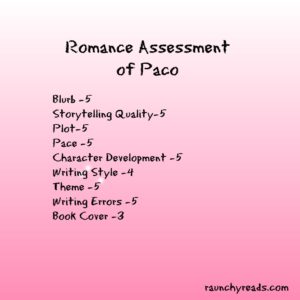 ---
What did you think of the review?
Let me know your thoughts in the comment box below!
READING ORDER & BUY LINKS
Click on the covers to buy the books
---