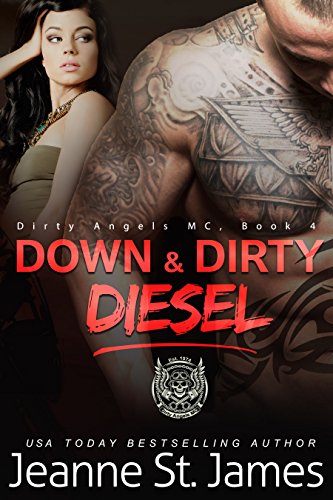 Down & Dirty: Diesel (Dirty Angels MC Book 4)
Dirty Angels MC
Contemporary Romance
CreateSpace Independent Publishing Platform
February 3, 2018
Paperback
262
Amazon
Welcome to Shadow Valley where the Dirty Angels MC rules. Get ready to get Down & Dirty because this is Diesel's story…She calls him "The Beast."Diesel, the MC's Sergeant at Arms and enforcer, is tasked with not only keeping the club's property and its members safe, but also taking care of "business" when needed. His motto, "live free, die free," means he sees most women as nags and clingers and he wants none of that. The last thing he needs is to have one sitting on the back of his bike and trying to dictate his life. Unlike the other DAMC women, Jewel wants to be an ol' lady. Being born and raised within the club, her goal is to earn her place on the back of a brother's bike. But not just anyone's. No, she had to pick the biggest, most pig-headed, and quick-tempered of the bunch. The one she nicknamed "The Beast," because that's how he acts both in and out of bed. She's wanted Diesel for so long she's not about to give up the fight to become his. She's bound and determined to win this battle one way or another. Diesel fights his desire for Jewel until a rival MC threatens what he realizes is his, and no one gets away with that. No one.Note: This book can be read as a standalone. It includes lots of steamy scenes, biker slang, cursing, some violence, and, of course, an HEA. If you like alpha males who like to take charge, this book is for you.
Down & Dirty: Diesel (Dirty Angels MC Book 4) Review
By Jeanne St. James
---
I'm not going to lie Diesel is my favorite in the Dirty Angels MC series, and so is his book. 
Diesel and Jewelee have known each other all their lives—both born into the MC Club. Jewel is secretly in love with Diesel and cannot bear to watch him and his bathroom antics with all his one-night stands.  Yes, he takes these women in the bathroom for a rump.  Diesel is adamant that he doesn't want an old lady, which is why he sticks to one-night stands with club whores and strippers.  However, Jewel is determined to become his old lady. 
Diesel fights his desire for Jewel but eventually realizes that Jewel is his.  When a rival kidnaps Jewel, Diesel sees red and is determined to dish out Dirty Angels justice.
This book was everything.  I devoured this book in one sitting, and I am NOT afraid to say that I have read it five times.  Down & Dirty Diesel is so addictive, and so is the Dirty Angels MC series.  Like the rest of the series, Diesel's book was quite entertaining.
Click here to read my review of the series =⇒Dirty Angels MC – Steamy Series Sundays. 
Or you can read my review of Book 11 Crossing The Line, an M/M Romance=⇒Crossing the Line Book Review.
When I need a pick me up, this is my go-to book. I cannot get enough of the explosive relationship between Diesel and Jewel.  If you are looking for a book with an abundance of hot-steamy sex, then this is the book for you.  Diesel and Jewelee heat up the pages from the first page. 
It was good to see the big bad, Diesel succumb to Jewel's charms.  She calls him the beast, but he is her beast.  She is very fiery and sassy and loves with her whole heart.  At times, well, most of the time, I want to kick Diesel's butt.  I cannot say that he is the sweetest man, but I can say that he is true to himself, and Jewel loves him how he is, and that is why he could not resist her for long. 
Diesel is a protector and is very protective of Jewel and the rest of the Dirty Angles MC, and it's his job as the enforcer of the club to be.  At times, I was also mad at Jewel for chasing a stubborn pig-headed man, who appears that he didn't want a relationship, and he made it quite clear; however, I can appreciate her going after who she wants, and she got her man—in the end. 
Diesel is quite stubborn, as you can see, but I believe he is also vulnerable and stayed away from series relationships so that the woman can be safe—and maybe he was waiting for Jewel all along.  He felt being with any woman will cause them harm, so he fought Jewel so hard.  He may appear unfeeling to some, but he cares about the club and keeping everyone safe. 
You will see the rest of the boys in the book, so don't fear.  Once you start this Dirty Angels MC, you will never stop until you finish them all.  I love Jewelee and Diesel.  They are my favorite couple, and you'll see them again.  What do you think of my review? Have you read any of the books below? If so, which one is most unforgettable?
Let us know your thoughts; please leave a comment below
---
READING ORDER & BUY LINKS (Not including anthologies)