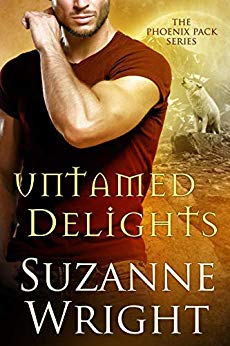 Untamed Delights
The Phoenix Pack
Paranormal Romance
Montlake Romance
July 16, 2019
Paperback
384
Amazon
Return to the sensual and feral stirrings of the Phoenix Pack as a woman who's already bound to one man is tempted by a wolf who's bound only to his nightly desires.
Cat shifter Mila Devereaux can't help but see it as a betrayal. That her one true mate imprinted himself on another female was hard enough to accept. Struggling to be at peace with her loveless fate, she doesn't fight the suggestion of entering an arranged mating. Then she meets Dominic, a pack enforcer with a notorious reputation. It's in his very scent. This irresistible playboy—and delicious badass wolf—is making Mila's fantasies come alive again.
Alarming, compelling, and heady with sensual energy, Dominic is an expert at making women shed their inhibitions. Now everything about him—his killer smile, his perfectly sculpted body, and his smooth-as-honey voice—is drawing in a captivating new catch. But for the first time in his life, Dominic is feeling more than a fling. He finds himself tantalized by a female who makes him think of forever. He wants all of Mila and won't be satisfied until he has it.
As the passion grows wild, so does the risk. They're falling in love in the shadows and secrets of their pasts. And it's threatening to destroy everything Mila and Dominic are fighting for. And are destined for.
Untamed Delights Book Review
I waited too long for Dominic's book, but is it worth the wait?
Dominic, a wolf shifter is an enforcer who makes everyone laugh at his antics. If you have already read the rest of the series, then you would have met Dominic. He is the enforcer that is always hitting on the rest of the women with cheesy pick-up lines.
Mila a Pallas Cat shifter is barber by day and a singer by night. Mila already found her mate, but as faith would have it, he has imprinted on Mila' cousin and the two are truly in love. Mila has to live with this knowledge and seeing them almost every day together is breaking her heart. Her mate is highly protective of her, but doesn't know why. He doesn't know that Mila is his mate.
When the Dominic and Mila met sparks flew, but Mila refused to be another one of Dominic's one-night stands, but Dominic was up for the chase, he was determined to get Mila in his bed heating up the sheets. Dominick has met his match in Mila. Although, Mila is not physically his usual type, he is attracted to right from the start. He always says some cheesy pick-up lines, but Mila doesn't give him any openings and have her own jokes and batted away his pickup lines. Dismissed him flirting with her and his attempts to charm her.
…what is it, are you a virgin?" She frowned. "No." "Prove it."
Dominic has a former one-night stand claiming to be his mate, and her father will stop at nothing to make him pay for refusing her.
Mila has a bounty on her head and nobody knows who wants her dead. Dominic is determined to protect her from bounty hunters, but who is will protect her from him?
I'm not a meteorologist," he began with an impish grin, sliding into the SUV, "but I'd say you can expect a good few inches tonight."
Dominic is sex on a stick and Mila is witty, fierce, never to be tamed and doesn't do BS! Just as I expected Dominic's book to be…it was hilarious.
"Roses are red, and so are other flowers. Take off your panties, I just need a few hours."
I laughed on almost every page. He is funny and it was kind of hard to imagine him being serious because he's always bullshitting around with everyone, but he has proven that he can be deadly when needed.
I cannot believe this is the end of the series, seemed like yesterday I read the first book, Feral Sins.
Let's talk about the plot though…I had so many scenarios going in my head the suspense was killing me–everybody was a suspect.
The story was well written, the plot was crazy good. Dominic and Mila have so much chemistry between them. I was a little bit afraid that the book would be just like the others, because I couldn't see where else Suzanne Wright could go with the series. I felt like the books was starting to get too similar for my taste, but I didn't have to fear.
She introduced Mila's brother, and another kind of shifter—a wolverine. I hope to see him in his own series—as well as her uncles…very interesting characters.
The Epilogue tied up the series very well. We were able to see what was going on with each couple and the pack as a whole.
Suzanne Wright did it again! Well done! Definitely worth the wait.
4.5 Stars
Rating Review Rollout:
(1) Attention Keeper: 5 ? ? ? ? ?
(2) Digging deep in Character Development: 4 ?? ? ?
(3) Danger-Drama-Friction-Suspense Fulfillment?: 5 ?? ? ? ?
(4) Edit to Perfection!: 5 ?? ? ??
(5) Feeling the Words: 5 ?? ? ??
(6) Give me more please factor: 5 ?? ? ??
(7) Going with the Flow of the Story: 5 ?? ? ? ?
(8) Grammar Police: 5 ?? ? ? ?
(9) It's all about the Chemistry, baby: 5 ?? ? ??
(10) Laugh out loud funny: 5 ?? ? ??
(11) Love connection: 5 ?? ? ??
(12) Plot Worthy: 4 ?? ? ?
(13) Show me Entertainment: 5 ?? ? ??
(14) The Writing speaks for itself: 5 ?? ? ??
(15) The Wrap Up of all loose ends in a tidy bow: 5 ?? ? ??
What did you think of the review?
Let me know your thoughts in the comment box below!
READING ORDER & BUY LINKS
Click on the covers to buy the books