King's Reign Sydney Storm MC Book 6
By Nina Levine
5 out of 5 Stars
This is the conclusion to King's story.  
~Blurb~
I was chasing pure darkness.
Succumbing to the needs I'd forced to the far edges of my soul.
Running like a madman towards evil.
Then I found her.
She breathed life into me when I hadn't thought there was any life beyond what I knew.
She gave me hope after I'd forgotten what it was.
She helped quiet the demons raging deep inside me.
Now I will lay myself bare for her.
I will bleed for her.
I will love her madly, deeply, passionately, completely.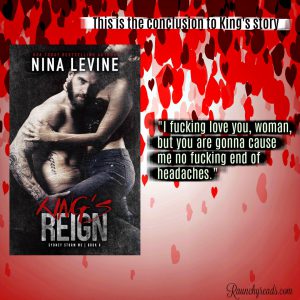 What a duet it is…King's Wrath and King's Reign!
This is not going to be a long review…or will it? I waited so long for King's story; I was afraid it wouldn't be released…but you know what… I forgive Nina Levine, the genius she is, wrote an epic story–told over two books…two of the best books to land on my Kindle–and on my shelf.
"I fucking love you, woman, but you are gonna cause me no fucking end of headaches."
King Reign was a gem in epic proportions.  This book got me hooked from the very first page.  King met his match in Lily, and it was good to see him fall utterly in love with her and she with him.
In most of the book…yes, most I wanted to slap King and kiss him at the same time…figure that one out.  He was a total jerk…an ass, but the more of a jerk he is, the more I wanted to hug and kiss him.  I love his bluntness and his lack of patience for bullshit!  King took care of business–no second chances!  It was good to see King's caring heart, the way he loves, and how he's always taking care of everybody.  King is an enigma! 
This is how a real MC Romance Novel should be–dark and gritty!  Just how I like it!  You can read as many MC Romance books as you want, but you will always compare the others to Nina Levine's books…I know I do.  
The storylines are so powerful; the characters are so well developed and intense you want to be part of the action right along with them. Book Boyfriends? Nina gives them to us in spades, and they are truly unforgettable! 
Once again, Nina Levine wrote a book with a plot that was freaking awesome…I couldn't turn the pages fast enough.  The plot is so powerful; the characters are amazing and well-developed with an intensity that makes you feel like you are right there in the story/action…feeling what they are feeling.   
Book Boyfriends…alpha males…bad-ass tattooed…sexy men.  I have to say that you will remember these characters for a long time.  You will compare other book boyfriends to them in every book you read going forward. 
"And Lily?" She looked at me.  "I will never be like other men. When I know what I want, I don't fuck around. I make sure I get it.  And while I may have fucked up with you once, that shit won't happen again. You take whatever time you need to wrap your head around this relationship. I'm not going anywhere."
That right there gave me goosebumps.  The Epilogue was off the hook! I read it five times. 
I can't wait to see what my author crush, Nina Levine, will produce next!
Hats off to Nina Levine! Bow down, bitches!
---
Have you read King's Wrath and King's Reign?  If so, what do you think?  Was it worth the wait?  
What did you think of the review?
Let me know your thoughts in the comment box below!
READING ORDER & BUY LINKS
Click on the covers to buy the books
---