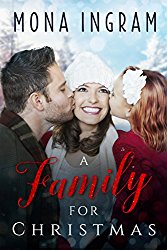 Holiday Romance Kindle Deals
Holiday Romance Kindle Deals
Here we are in the middle of the week…and only 5 days before Christmas.
This is my favorite time of the year, how about you?  I love getting presents, almost as much as I love giving them.  There I was searching for more books to read on Kindle, and I found some great deals–only $0.99.
Because I am in a giving mood, I will share some of my findings with you.  Here are 3 Holiday Romance Kindle Deals I found today.  Please make sure that the books are still $0.99 before you purchase. Some of these books are part of a series, so be sure to check out those deals as well.
---
Love at Last (Jenkins Family & Friends Novella)
By Sharon C Cooper
Kindle Price: 
$0.99
After two failed marriages and several short-term relationships, Carolyn Jenkins is about to give up on love…until a chance encounter with a handsome stranger.
Widower, Lincoln Richmood struggles to move on after his almost perfect 30-year marriage…until he meets the vivacious Carolyn Jenkins.
Will two people who are looking for love, finds it this Christmas…or will their differences derail their relationship…
---
'Tis the Season Bundle (Entangled Indulgence)
By Various Authors
Kindle Price: 
$0.99
Four books in this bundle:
Tis the Season to Kiss Santa by Kate Hardy
Tis the Season to be Kissed by Amy Andrews
Tis the Season to Get Lucky by Heidi Rice
Tis the Season to be tempted by Aimee Carson
---
A Family for Christmas
By Mona Ingram
Kindle Price: 
$0.99
This Christmas Romance from award-winning author, Mona Ingram is about Maddie LaRocque who moves to Calgary. She is laid off from her job only months after Christmas.  She sets up a gift wrapping business in the lobby of an office building where she meets, Anne, a ten-year-old girl who just lost her parents…then she falls into the arms of the building's maintenance man…what luck!
Her best friend Lily is not doing so great either. She is unlucky in the romance department lately and is trying to resist the handsome hunk, Chase Drummond.
Will Annie convince the two women that the best Christmas Gift is LOVE?
---
Grab these three easy reads with a cup of hot chocolate or spiked eggnog (frankly I vote for the eggnog).  As always, please check the price before you purchase.
After reading any of the books, please drop by and leave a comment.
Happy Reading!